Fashion-Focused Styles That Endure
Fresh New Fabrics
Graber Roller and Solar Shade collections include a lovely array of colors, patterns, and textures, all carefully curated by our trend advisors—so you're certain to find a style that endures.
Schedule a Consultation
Explore the Wide Range of Roller and Solar Shades
Roller Shades
Graber Lightweaves® Roller Shades include fabrics that are absolutely gorgeous. From sheer to blackout, we offer a variety of privacy and light control options. That means you can choose the same fabric in different opacities and coordinate from room to room. Wide windows? We've got them covered, too.
Solar Shades
Ideal for rooms with a lot of sun exposure, Graber Lightweaves Solar Shades are uniquely engineered to allow a view through the fabric, while blocking the UV rays that can damage furnishings. Light still enters the room but glare on your TV and other screens is minimized. Graber Solar Shades work hard at your windows, even blocking heat and reducing cooling costs, all while providing a sleek, modern aesthetic.
Eco-Performance Solar Shades
Graber's newest collection offers all the same features as our solar shades, but with better fabrics for a better world. From improving indoor air quality to recycling plastic bottles from the ocean to being recyclable after use, Graber Healthy Home and Eco-Friendly solar fabrics make an eco-difference in the world—going above and beyond their good looks.
Exterior Solar Shades
Installed outside your home's windows, exterior solar shades prevent the sun's rays from reaching the glass, while offering the same benefits as interior solar shades. They can keep your outdoor patio cool and comfortable, too.
NEW Graber UltraLite Lift System
Now you can lift and lower your Graber Solar or Roller Shades with the lightest touch! Simply upgrade to our innovative new lift system—the Graber UltraLite. It's compatible with just about any size window—in fact, the UltraLite covers 60% more window sizes on average than a leading competitor.*
Premium operation—virtually weightless and luxuriously smooth
Effortlessly lift and lower your shade
Precisely place your shade—every time
Whisper-quiet function—so discreet and graceful
Less light gap at the shade's edge—so you can sleep in longer
*Based upon averages from published coverage charts using directly comparable fabrics sold in the independent dealer channel.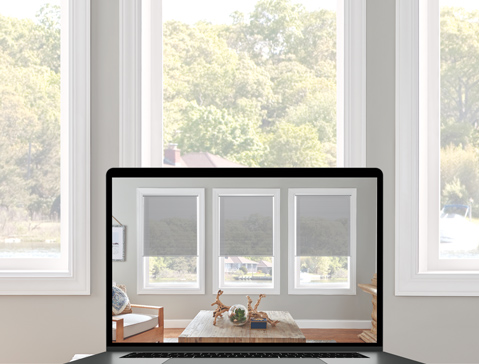 Try Treatments on Your Own Window—Virtually
Simply upload a photo of your window and start designing—or choose from our portfolio of sample room scenes. Then preview your picture-perfect treatments.
Visualize Your New Look
Limited Lifetime Warranty
The Graber Limited Lifetime Warranty extends from installation throughout the life of your window treatment.
Review Warranty Details